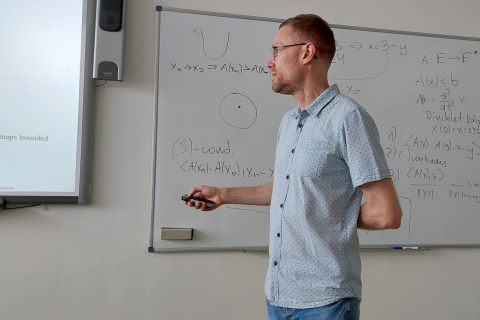 In 2023, several of our colleagues from abroad paid visits to our department:
Thanks to MEMOV funding, prof. Yuriy Rogovchenko from University of Agder (Norsko) was able to stay with us for the first half of the year.
In April we hosted Prof. Sanja Jančić-Rašović and Prof. Srđana Kadić from University of Montenegro (Montenegro).
In July, Prof. Leonid Berezansky from Ben-Gurion University of the Negev, Beer-Sheva (Israel) had an interesting lecture at our department.
In September, Prof. Marek Galewski from Technical University of Łódz (Poland) paid visit to our department - in order to deliver his lecture and also as an reviewer of the PhD dissertation of E. Korobko.
In September, Prof. Miroslava Růžičková from University of Białystok (Poland) participated in person  in the finals of E. Korobko as the second reviewer of her dissertation.
In April 2024 we plan to host our two junior colleagues from University of Nova Gorica (Slovenia),  Alessandro Linzi, Ph.D. andHashem Bordbar, Ph.D..